Costa Blanca situated on the east coast of Spain is one of the most beautiful places in Europe. One of the reasons that the WHO considers this region to have one of the healthiest climates in the world is the more than 320 days of sunshine and an average temperature of 19 degrees. This is also the major reason for the invasion of foreigners that have come here for vacation and decided to never leave Costa Blanca. The endless sandy beaches have given it its name Costa Blanca (The white coast) The Costa Blanca stretches from the town of Denia in the north to Torrevieja in the south.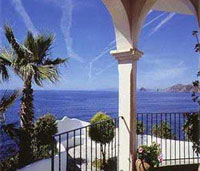 Costa Blanca in Spain offers all kinds of things to all tastes. The Costa Blanca is a paradise whether you like to stay on the beach the whole day, play golf or scuba dive in crystal clear waters. The nightlife features everything from a nice quiet dinner to party all night. Take your pick from quiet Spanish villages where time seems to have stopped or skyscraper resorts which never sleep.
The relatively green and mountainous northern part of Costa Blanca is full of orange groves and olive trees. The southern part is drier and homes the largest salt plants in Europe. A tour along the Costa Blanca will include international resorts and old Spanish towns starting in the beautiful town of Denia in the north with its castle and commercial centre mixed with the tourist industry. The next town on the list is Javea. Next stop is the fishing port of Moraira with its holiday villas beside its yacht marina. The beach resort of Calpe is next. Calpe is a modern beach resort but has an attractive old quarter and the distinctive Gibraltar-style Peñon de Ifach rock which dominates the skyline for miles around.

Altea is considered one of Costa Blanca's most beautiful towns with it's medieval cobbled streets leading up to the blue-domed church and plaza which features one of the best views on the Costa Blanca. 11 kilometres further south the completely different town of Benidorm where the tourists go to get a tan during the day and party all night.
A bit further south is the quiet town of Villajoyosa. Alicante is the region's capital and features all kind of activities to serve all tastes. Last stop is Torrevieja an international tourist resort preferred by British and Scandinavian holiday makers and people that have decided to stay for good