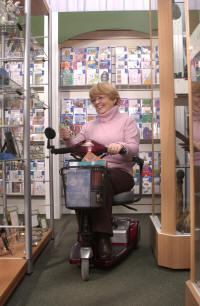 Mobility Direct have been caring for our clients since 2003
ALL ITEMS CAN BE DELIVERED TO YOUR DOOR
More details Mobility scooters for sale and for rent
MOBILITY SCOOTERS AND WHEELCHAIRS FOR RENT IN SPAIN
MOBILITY EQUIPMENT FOR RENT IN SPAIN
Mobility Direct can offer you a full rental service on the Northern and Southern Costa Blanca Spain
We can deliver items to your holiday apartment, villa or apartment.
You can reserve your booking by telephone and e-mail, and you reservation will be confirmed to you.
Our equipment is maintained by and serviced by professionals.
The security deposit is payable when we the delivery is made by our helpful and friendly staff.
You can also choose to collect the equipment from our shop in Calpe .
Our rental prices are shown on our web site, and all you need to do is to go to our home page www.mobilitydirect.info and click on rentals. Alternatively just send us an e-mail from this page.
The payment can be made on line and is completely secure.
We may charge a small delivery fee in some areas.
Contact details: Phone 0034 96 583 9814
Mobile : 0034 670 387 967
E-mail: info@mobilitydirect.info